Atlantic City, NJ - Showboat Closing After 27 Years In Atlantic City
Published on:
August 31, 2014 02:22 PM
By: AP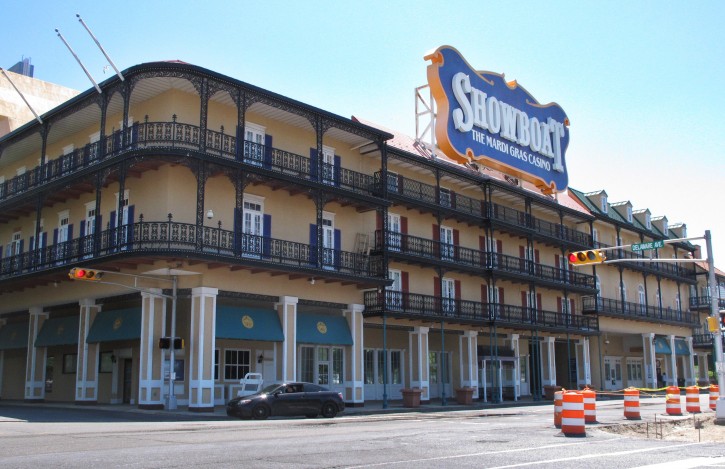 Atlantic City, NJ - The show is ending for the Showboat Casino Hotel in Atlantic City.
The Mardi Gras-themed casino is shutting down at 4 p.m. Sunday after 27 years on the Boardwalk.
Its owner, Caesars Entertainment, is closing the still-profitable Showboat to reduce the number of casinos in Atlantic City, which has been struggling with plunging revenue and increased competition. Caesars will still own three other casinos in Atlantic City.
"The Showboat has been in business in Atlantic City for 27 years, and all of us at Caesars are extremely proud of the 16 years that our company operated the property," Caesars Entertainment CEO Gary Loveman wrote in a letter to employees. "I want to thank the Showboat Atlantic City team for their dedication, professionalism, and commitment to our guests — both throughout the years and especially over the past several weeks.
"When considering the legacy of the Showboat, I have no doubt that it will be the pride and resilience of the property's team members that remain as indelible images in the hearts of our customers and colleagues for years to come," he wrote.
More than 470 of the casino's 2,000-plus workers are transferring to other casinos the company owns here or in other states.
Showboat is one of three Atlantic City casinos shutting down over the next two weeks. Revel will begin a two-day closing Monday, and Trump Plaza is closing Sept. 16.
The Showboat opened March 30, 1987, with the idea of taking the party atmosphere to a new level. It was designed as a New Orleans-style riverboat casino with a Mardi Gras theme. It even had a bowling alley for folks who needed a break from the slot machines and table games.
Kurt Williams of Seaville was a young boy when his family brought him to the Showboat soon after it opened.
"There was a fun vibe to the Showboat, especially for a wide-eyed young kid like me at the time, and it was the only resort in town that had a bowling alley," he said. "It's really a shame all these resorts are going belly up, and I feel awful for the surrounding communities and the families it will affect."
Jeffrey Compton, publisher of CDC Gaming Reports, visited Atlantic City in the late 1980s and was struck by how much the casinos resembled one another.
"Breaking that rule was the Showboat," he said. "It was longer and more spread out than the other casinos, and it had a wonderful party atmosphere, with a Dixieland band."
Elizabeth Scarnati of Cortland Manor, New York, is still excited about a $12,000 jackpot she won last year playing slots at Showboat.
"I always loved this little casino, especially those suites in the Bourbon Tower," she said. "I was lucky enough to stay in the one on the top floor, oceanfront, with the wraparound balcony. I will miss the Mardi Gras casino a lot."
Atlantic City began the year with 12 casinos, but before summer is over, it will be down to eight. Nearly 8,000 casino workers will have lost their jobs.
More of today's headlines
"

Tehran - Iran's possible response to new U.S. sanctions could "not be pleasant", its foreign minister said on Sunday, raising the prospect of tit-for-tat retribution...

"
Tehran - Iran Says Possible Response To New U.S. Sanctions Could Not Be 'Pleasant'
"

Jerusalem - Israel's finance minister says his country and other regional powers should work together to rebuild the Gaza Strip and disarm Hamas militants that rule the...

"
Jerusalem - Israel Calls On Region To Rebuild, Disarm Gaza