New York - New Book Opposes View That Satmar, Belz, Ger Rebbes Escaped Nazis, While Leaving Their Chasidim Behind
Published on:
September 10, 2008 10:29 AM
By: Haaretz with edit by VIN News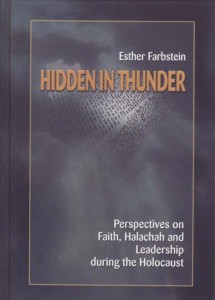 New York - Among the questions and very controversial issues that continue to be bitterly debated, serving as a source of constant friction, false accusations, and hostility in the relations between Orthodox and the rest of the Jewish and Zionist world, is false accusations that many Gedolim fled the Nazis while leaving behind their chasidim.
this topic and has recently surfaced on many secular web sites.
Now comes a very well researched book By an orthodox Jewish woman Esther Farbstein which examines from the vantage point of halakha (Jewish law) in "Hidden in Thunder."
she brings an added dimension to our knowledge of events and topics in which Orthodox leaders, and especially rabbis, were directly involved during the Holocaust.
In this respect, Farbstein's motivation in undertaking this ambitious project is crystal clear. As she writes in her preface to the first volume, she seeks to "unveil" the world of Jewish law and thought to "historians whose access to this material is limited." In her opinion, religious life during the Shoah has been ignored for many years not only because there is a lack of testimonies from observant survivors, but also because there is a tendency among Holocaust scholars, almost none of whom are ultra-Orthodox Jews themselves, to create a "political-polemic atmosphere" around religious Jewry and its leaders, which leads them to make sweeping assumptions that lack a factual basis. These are then compounded, she suggests, by those scholars' own lack of understanding of the inner world of believing Jews.
Farbstein is correct when she points out that each such decision must be analyzed separately, given their different historical contexts. (The Ger Rebbe escaped from Poland in 1940, the Belzer left Poland initially and then Hungary in January 1944 and the Satmar was on the "Kasztner transport" released in December 1944.)
Farbstein comes to her task with unique credentials. With a graduate degree from the Hebrew University's Institute of Contemporary Jewry, the world's premier institution for Holocaust studies, and with a most-impressive ultra-Orthodox pedigree as the wife of the head of the Hebron Yeshiva and the great-granddaughter of the Ger Rebbe, Avraham Mordechai Alter, Farbstein possesses the necessary tools to conduct pioneering research in the field: access to Haredi sources, knowledge of the mindset of ultra-Orthodox Jews and training as a professional historian.
Farbstein justifies the escape of the rebbes, she also points to the extremely positive and inspirational role played by those rabbis who did not escape overseas, leaving unanswered the obvious question of the positive role that the Ger, Belzer and Satmar Rebbes could have played had they chosen to remain with their communities.
this book does perform an important service by bringing many previously inaccessible sources by ultra-Orthodox authors to the knowledge of scholars and other interested parties. It also provides insight into the hitherto-unknown role played by certain Polish rabbis in spreading knowledge of the Final Solution. Also of interest and importance are the sections dealing with the response of Orthodox rabbis to various ethical dilemmas, such as demands to turn over Jews (as mentioned above) or to compile lists of Jews to be sent to camps. In that respect, it is clear that Jewish law was put to severe tests by the trials and tribulations experienced by Jewish leaders and communities during the Shoah, a point repeatedly emphasized by Farbstein.
The above article is reprinted with some edit by VIN News from Israeli newspaper Haaretz. VIN News strongly recommends this book, its a true masterpiece, and the only book written on this subject.
VIN News has received 100's of emails in the past 6 moths to address this issue therefore we find this book extremely informative. We know this is highly controversial, we invite our readers who have vast knowledge of research to post comments. or email us.
Below is the description of the book on Feldheim Publishing web site
Perspectives on Faith, Halachah, and Leadership during the Holocaust. From amidst the unspeakable ravages of the Holocaust emerges this breathtaking book—a wellspring of faith, perspective, and astonishing testimonies of witnesses. In these two meticulously researched and heart-stirring volumes lies the unbroken spirit of the millions of Jews who willingly and lovingly sacrificed their lives while sanctifying Hashem's Name at the murderous hands of the Nazis. Halachic questions asked of rabbonim of the era give piercing insight into the darkest moments experienced by our brethren—and the blinding light of faith to which they clung even when faced with horrific challenges. Astounding in its scope, this work also examines the post-war era, opening a window upon the stark and brutal realities of those who survived and their supreme struggles to rebuild their lives. It is simply impossible to describe the vast depth and detail of this monumental work; even a peripheral reading will reveal its importance and the precious lessons it contains. Rich with historical documentation—some of it presented here for the first time—these volumes are truly eye-opening. Covers a broad spectrum of topics: individual and communal prayer, the role of rabbis at the time, halachic and moral issues which arose including dilemmas concerning rescuing people, hidden children, marriage, and agunot. Special attention is given in this work to the survivors' lives after liberation and the material, emotional, and spiritual problems that they faced.
More of today's headlines
"

Queens, NY - A press conference will be held today to announce the unsealing of a criminal complaint charging New York State Assemblyman Anthony Seminerio with honest...

"
Queens, NY - FBI: Queens Assemblyman Anthony Seminerio To Be Charged With Fraud
"

New York, NY - The city is working to make its streets safer for elderly residents. Flushing, Queens is now the second of five pilot neighborhoods to make safety...

"
New York, NY - City Makes Streets Safer for Seniors