Israel - El Al to Breslov Hasidim Flying to Uman: Don't Smoke on Plane
Published on:
October 1, 2011 09:28 PM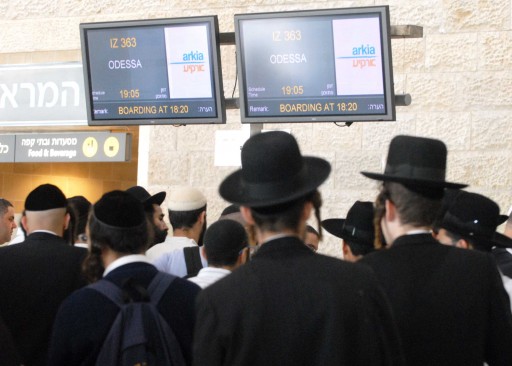 Israel - Rabbi Yohanan Hayut, director of El Al's religious services division, issued a leaflet with strict instructions to Hasidic pilgrims flying to Ukraine for the High Holidays, following passengers' inappropriate behavior on the airline's planes in recent years – including smoking, refusing to put on their safety belts and destroying equipment.
El Al's chief purser issued his own memo to the air crews, reminding them to thoroughly examine the credit cards used by the Hasidic pilgrims, not to leave their bags in the luggage compartments and to lock their cellular phones in the cockpit to avoid theft, which is said to be common on these flights.
The rabbi clarifies that passengers must not change seats during the flight, "protect the plane's property and avoid damaging or destroying it," and that smoking in or near the plane is strictly forbidden.
A senior El Al crewmember told Yedioth Ahronoth on Monday that every single steward tries to avoid serving on flights to Uman, which include male flight attendants only.
"People have no respect for the property and crew. They smoke freely during the flight and walk up and down the plane even when it's forbidden. For many of them it's the first time they fly, and they don't know how to behave on a plane. In some incidents, they even got into real brawls with the crew."
More of today's headlines
"

Montreal - A mainly Jewish Montreal suburb has raised hackles by instituting a noise ban for Rosh Hashanah, the Jewish New Year. The town of Hampstead had already...

"
Montreal - Yom Tov Noise Ban Causes Stir
"

New York, NY - New York City police say about 700 protesters have been arrested after they swarmed the Brooklyn Bridge and shut down a lane of traffic for several...

"
New York, NY - 700 Arrested After Protest On NY's Brooklyn Bridge